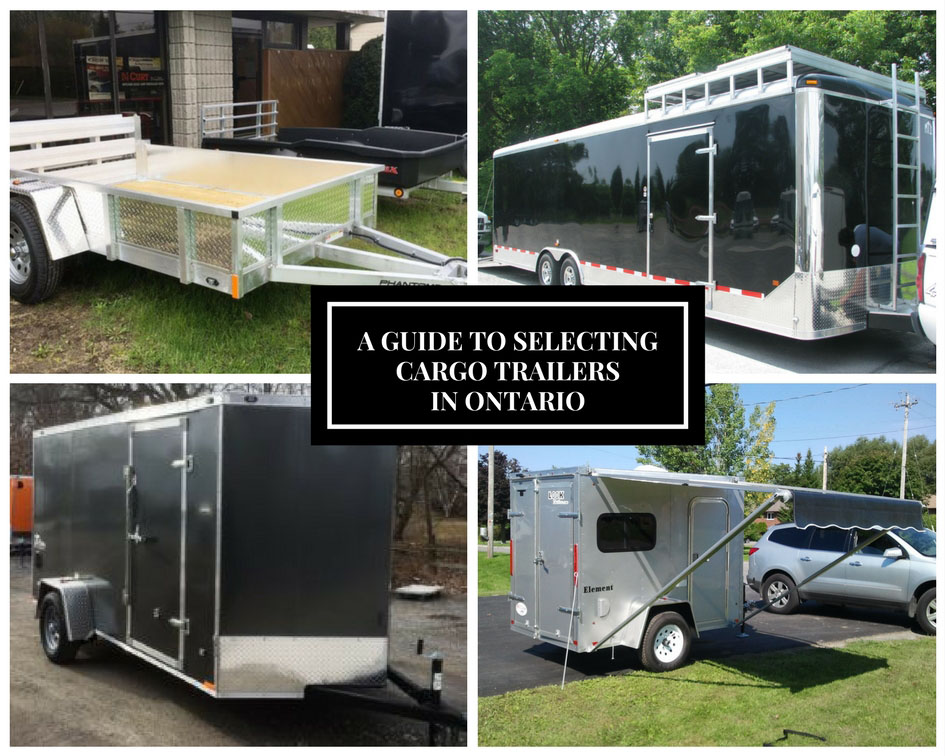 There are numerous reasons someone will consider buying a cargo trailer. From hauling kayaks to the cottage a few times during the summer or towing your snowmobile or motorcycle to the track or renovation contractors using it day in day out towing heavy construction material, there is an ideal trailer for every purpose.
There are many types of trailers available on the market. You have the option of buying enclosed cargo trailers or open trailers. You can buy off-the-shelf stock trailers, and you can also customize most trailers to meet your needs. With so many styles, sizes and options to choose from, the goal of this article is to help you figure out how to pick the right trailer to suit your needs.
How to Choose the Best Trailer for Your Needs
To help you choose the right type of cargo and utility trailer, a knowledgeable trailer salesperson will ask you these questions to determine the ideal trailer for your needs:
What is the tow capacity of your vehicle?The vehicle used to tow the trailer impacts the type and size of trailer you should purchase. Since the trailer is essentially dragged by the tow vehicle, this vehicle has to be able to handle the trailer plus the weight of its contents. For example, a small Honda Civic can't pull a 14-ft enclosed trailer. Check your owner's manual to find out the tow capacity of your vehicle.
How often will the trailer be used?Contractors who use their trailer to transport construction equipment on a daily basis will require a much more robust trailer than someone who use it to haul a garden tractor. This determines whether you should be getting an entry level trailer without all the bells-and-whistles, a mid-level trailer or the top-of-line trailers.
What item(s) and content(s) are you planning on towing?The size and weight of the items you are planning on putting in your trailer plays a big factor in determining the specifications of the trailer you should purchase, including:

the number of axles on the trailer and their weight rating;
the size or footprint of trailer; and
whether you get an enclosed or open trailer.
Single vs Tandem Axles
Axles are the set of wheels on the trailer. A single axle trailer has a sole set of wheels and a tandem axle has two sets of wheels. To determine if you need a single axle or a tandem axle, it boils down to the cargo weight, maneuverability and type of terrain. In general, single axle can hold less weight but has better maneuverability whereas tandem axle can haul heavier loads and can perform better on uneven terrains.
Single axle trailers typically have a Gross Vehicle Weight (GVW) rating of 3500 lbs, including brakes. This means that the trailer and all the stuff you put in it can not weigh more than 3500 lbs.


Tandem axle trailers can carry twice as much as a single axle, making the GVW for tandem axles at 7000 lbs. Therefore, if the tandem axle trailer weighs 2000 lbs and has a GVW rating of 7000 lbs, then you can put 5000 lb worth of items on it.
Size of Trailer
Obviously, you want to buy the trailer that will fit the contents you plan to tow. Trailers come in all sizes, with the smallest enclosed trailer footprint being 4×6 ft. In general, our recommendation is to buy the size that is the best fit for the item(s) you plan to tow regularly. For the occasional bigger item, we have trailers available for rent at our Brighton location.
Enclosed vs Open Trailer
Enclosed trailers are great for high-valued items such as our vintage automobile or souped up motorbike – it keeps your content out-of-sight and protected from the elements. However, enclosed trailer requires a higher towing capacity vehicle compared to open trailers, and creates more drag so is less fuel efficient.
Consider Custom Trailers
Even with the wide range of trailer styles and sizes available, many consumers may not find the right trailer that meets their needs. The good news is that any trailer is customizable — if you can dream it, we can build it!. Instead of just having side doors, you can add ramp doors or barn doors. You can increase the height of the trailer or add windows, if you wish.
Contact us for all your trailer needs
We're here to answer any questions you may have about which trailer is best for your needs. Contact us via phone of email, or pass by our shop in Brighton, Ontario.